Cardigan, beige mélange – DAISY
Cropped alpaca/linen cardigan
70 % Baby Alpaca 30 % Linen
Daisy feels like summer. In this light and airy cardigan, the best qualities of alpaca wool and linen come together: ease of care, breathability and luxurious feel combined with the lovely sturdiness from linen.

Quality materials: 70 % Fine Special alpaca wool, 30% Linen

Mid-chunky, flexible knit

Knitted waist darts and silvery metal buttons

Short and tight fit, narrow hem. 

The material softens in use and reaches its full softness after a couple of wears.

Neutral beige tone.

Responsibly produced in Northern Europe.
The first model's height: 175 cm, wearing size XS. The second model's height: 162 cm, wearing size XL.

Daisy is the shortest cardigan in our collection, the hemline falling just slightly under the waistline. This cropped beauty is the perfect cardigan to combine with dresses or high-waisted trousers and skirts. It's designed to be worn throughout all four seasons.
Silky soft and warm alpaca wool is one of the finest and most valuable natural fibers in the world. Read more!
Brand: Alpa
Material: 70 % Baby Alpaca grade alpaca wool 30 % Linen
Country of manufacture: Lithuania
Care instructions: Hang outside to freshen it up. Does not need regular washing. Careful hand wash in 25 °C if needed. See care and washing instructions!
Finding the right size
You can either use our smart Fitle size advisor or compare the measurements of chart (below) to your existing garment.
How accurate are the measurements? Will they change through time or washes?
There may be little variation in the dimensions of products made from natural fibers. However, the knit has good elasticity and the knit adapts to your body during first days of wear. The product will keep its measurements well.
When in doubt with choosing the right size, please contact us. Our customer service will be happy to help you!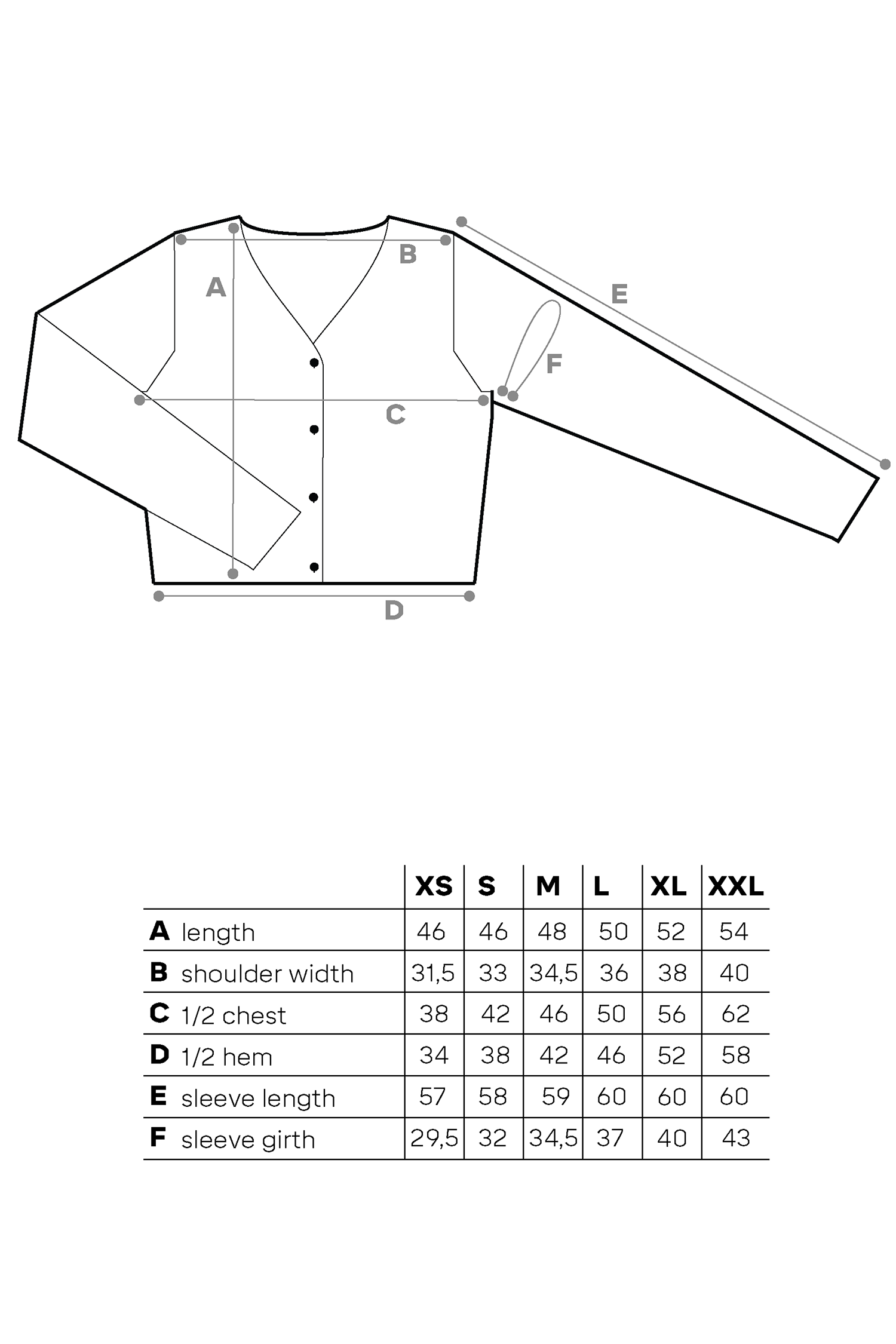 Shipping in 1-2 days
Fast shipping and free returns in EU
Responsible production – all knits made in EU
100 % satisfaction guarantee
Enable reading all customer reviews and make them interactive by