Cardigan, beige – CUDDLE
Long cardigan
100 % Baby Alpaca wool
Cuddle feels as lovely as a warm hug from a friend you haven't met for a long time. Dropped shoulders, patch pockets, wide cuffs and hem slits give this casual but luxurious cardigan a great look. The buttons are made of Corozo. Corozo is a ecological, renewable and biodegradable natural material that withstands use and washing, it comes from the nut of the Tagua Palm.
Knitted from double yarn, Cuddle it is warm and dense, but breathable. The cardigan goes with you throughout the year both indoors and outdoors. In spring and summer, the cardigan works great as a jacket, and in cold weather, it slips conveniently under the jacket as an extra layer. In terms of thickness, Cuddle corresponds to the Mellow knit and the Cozy knit dress.
Cuddle was born from the meeting of two people – from a moment when no words felt right. In Cuddle, a long and gentle hug has taken the form of a cardigan.
100% alpaca wool - durable, soft, breathable and warm. Read more about the material here.
Fully fashioned knitting - beautiful and durable seams without cutting waste.
Relaxed fit, straight hem and patch pockets.
The knit softens to its final softness after a couple of days of use.
Made responsibly in Northern Europe.
Designer: Ainomaria Haataja
Silky soft and warm alpaca wool is one of the finest and most valuable natural fibers in the world. Read more!
Brand: Alpa
Material: 100% Fine Special grade alpaca wool
Country of manufacture: Lithuania
Care instructions: Hang outside to freshen it up. Does not need regular washing. Careful hand wash in 25 °C if needed. See care and washing instructions!
Finding the right size
Relaxed fit. If you want a tighter fit, choose a size smaller than you normally do. To best find your size, ou can either use our smart Fitle size advisor or compare the measurements of chart (below) to your existing garment.
How accurate are the measurements? Will they change through time or washes?
There may be little variation in the dimensions of products made from natural fibers. However, the knit has good elasticity and the knit adapts to your body during first days of wear. The product will keep its measurements well.
When in doubt with choosing the right size, please contact us. Our customer service will be happy to help you!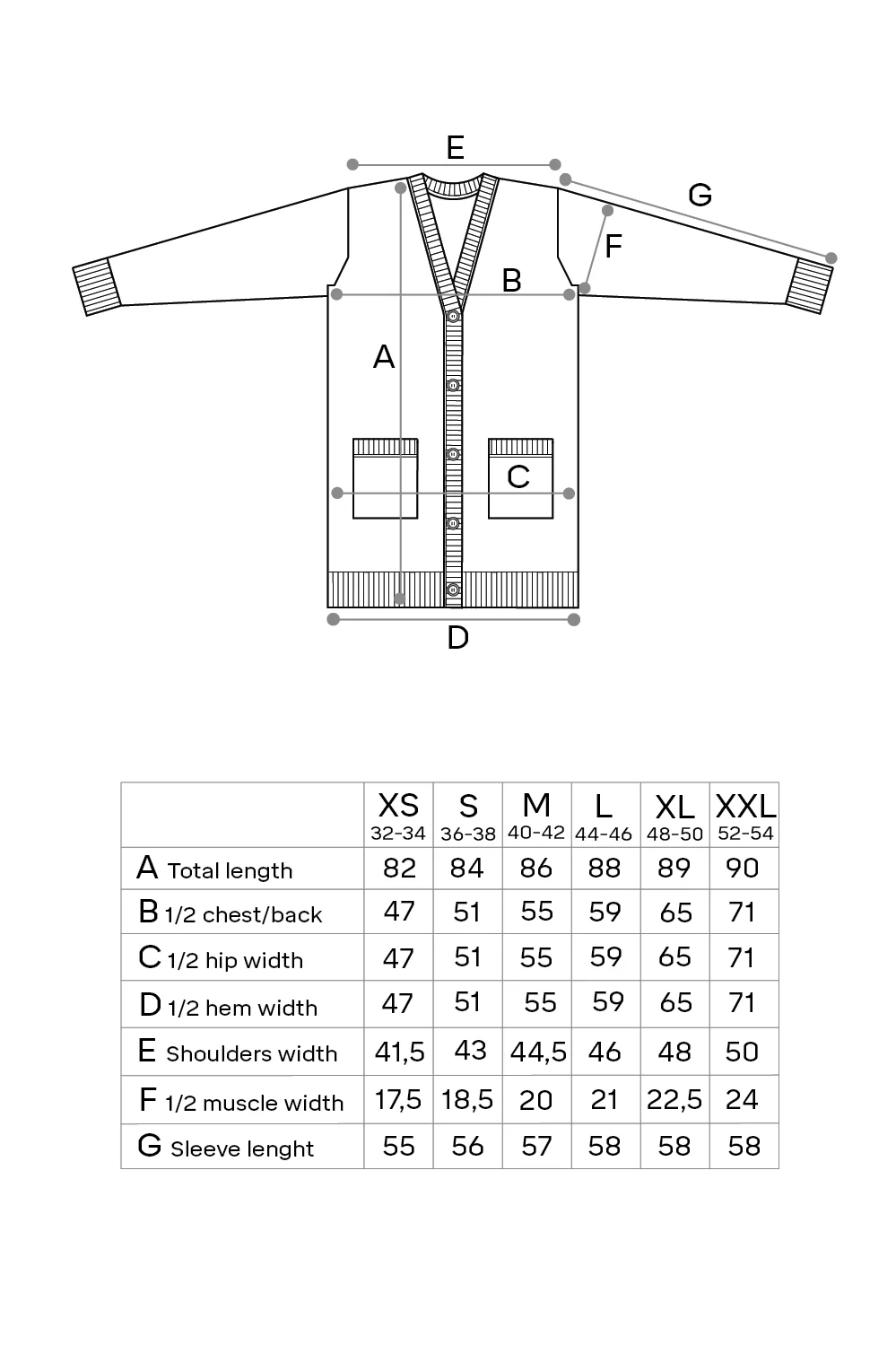 Shipping in 1-2 days
Fast shipping and free returns in EU
Responsible production – all knits made in EU
100 % satisfaction guarantee
Enable reading all customer reviews and make them interactive by