COZY maxi dress, dark grey
100 % Alpaca wool polo dress
100 % Fine Special alpaca wool
Confidence in comfort. Our knitted maxi dress Cozy breathes effortless elegance. It is just stunning with its impressive length, yet it feels so homely and pleasant on you.
100% Fine Special alpaca wool – durable, soft, breathable and warm.

Read more about the material here.

Saddle shoulders to fit every size.

The polo collar can be folded in or out.

The hem slits give freedom of movement.

Double sizes and casual fit – scroll down to find the size guide.

Fully fashioned knitwear – beautifully finished, durable seams without cutting waste. 

The material softens in use and reaches its full softness after a couple of wears.

Made responsibly in Northern Europe.
Color

:

Dark grey
This maxi dress made of 100% Fine Special alpaca wool will keep you warm in all weathers. Despite its length, Cozy feels very light and comfortable to wear. The side slits on the hem give freedom of movement. The upright but flexible turtleneck keeps you safe from draft. Pair the dress with our alpaca leg warmers and stay snug and warm even in the coldest of weather.
Made of the highest-quality natural material, Cozy will stay good-looking for years to come. Alpaca wool is naturally stain and odour resistant, with excellent moisture wicking qualities ‒ not only does it keep you warm and fresh, the ease of care for this garment is unmatched.
Alpaca, the Gold of the Andes
The material of this product – 100% Fine Special alpaca wool – is our most durable fibre quality.
Alpaca wool is one of the most extraordinary and rare natural fibres in the world. It's not well-known by many, but once you get to know it, you're hooked! Its exceptional breathability, excellent resistance to pilling, and beautiful, fluffy glow are something you just won't find in other materials.
Unmatched warmth and breathability
Are you always cold, or alternatively, are you unable to wear knits because they are too hot? Alpaca is the perfect solution for both those problems: alpacas have adapted to different temperatures, as it is hot during the day and chilly at night in the Andean mountains where they graze. Over the millennia, alpaca wool has developed special properties in terms of both warmth and breathability.
Alpaca vs. Merino
We often get questions about the properties of alpaca wool compared to other materials. In comparison to merino wool, alpaca wool stands out especially for its superior moisture transfer qualities. Alpaca fibre is untreated and has a natural ability to absorb and transfer moisture effectively.
Commercial merino wool is treated to make it machine washable, in a so-called superwash treatment: the surface of the wool is coated with resin. The treated fibre loses much of its absorption capacity. The surge in the popularity of merino wool has made it increasingly challenging for a customer to discern between different levels of merino wool quality as there is now a vast array of merino qualities available in the market.
Alpaca wool – it only gets better with use
Most of our knits are densely knitted – we don't cut corners on material use – so they need some time to soften up. This is necessary in order to make garments that last longer, and as you know, longevity is one of our core values. You can speed up the softening by brushing or steaming the knit, or ease it in by wearing a shirt underneath at first. Over time, the inside of the knit gets a soft, fluffy layer, typical for alpaca wool, making it feel really smooth and lightweight on you.
The secret to the smoothness of alpaca wool is in its fibre: it has fewer and tinier scales on its surface than other wools. Thanks to those smooth and long fibres, alpaca wool doesn't pill easily, which our customers really appreciate.
Finding the right size
You can either use our smart Fitle size advisor or compare the measurements of the chart (below) to your previous garments.
How accurate are the measurements? Will they change over time or after washing?
Some variation may occur in the sizing of a garment made of natural fibres. However, the knitwear has good elasticity and it adapts to your body's shape during the first days of wear. The product will keep its measurements well.
When in doubt with choosing the right size, please contact us. Our customer service will be happy to help you!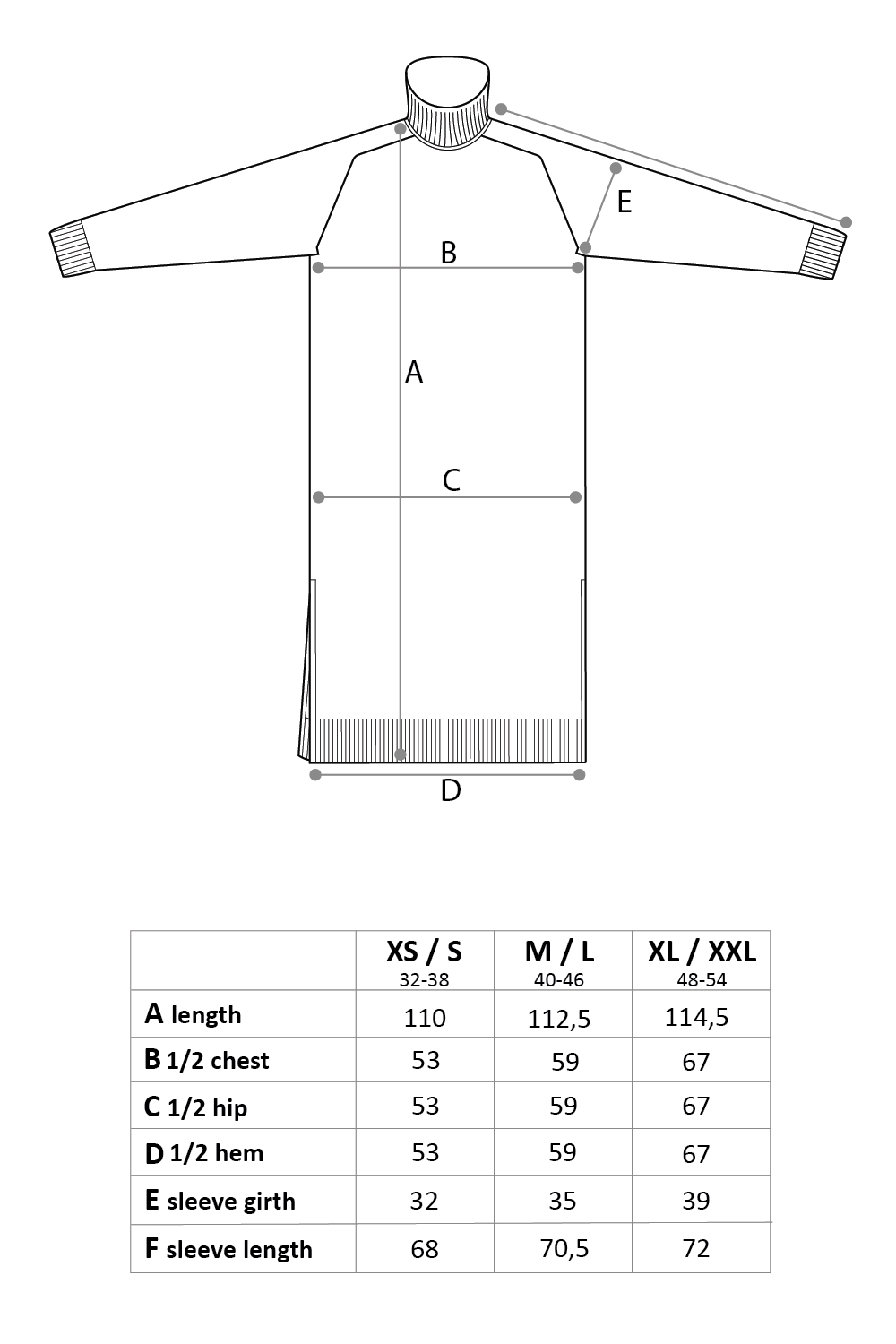 Taking care of your Alpa® alpaca garment is super easy! You don't have to wash it a lot. In fact, most times, just letting it air outside is enough to make it fresh again. If you wear another shirt under your knitwear, there will be even less need for washing.
If the garment gets stained or musty and is indeed in need of a wash, we recommend washing it by hand in cold water, using a gentle soap and squeezing it softly (avoid rubbing). After rinsing, roll it in a towel to get rid of extra water, reshape it and let it dry on a flat surface to avoid any unwanted stretching.
The whole washing from start to finish takes about 10 minutes – so it's really easy to take care of your alpaca garment. Washing it once or twice a year should be enough in normal use.
This Alpa® knitwear piece is responsibly manufactured in Lithuania at the production facilities of our long-term partners. Our partners have decades of experience in manufacturing high-quality knitwear products, and together we have uncovered the secrets of knitting with the rare alpaca wool.
Delivery Methods & Costs:
EU:
GLS: 2-7 working days, 10 €
DHL Express: 2-4 working days, 30 €
Free Standard Shipping for orders over 200€
UK:
Deliveries over 135 pounds only due to new VAT rules post-Brexit.
GLS: 5-6 working days, 10 €
DHL Express: 2-3 days, 30€
United States, Canada:
Rest of the World:
Duties & Taxes:
When ordering outside the EU, duties/taxes are NOT included in the shipping costs, and value-added tax 24% is deducted from your order total automatically. Refer to local custom officials for these costs.
We strive to make shipping easy and hassle-free! For any questions or more information, please contact our customer service.
Shipping in 1-2 days
Fast shipping and free returns in EU
Responsible production – all knits made in EU
100 % satisfaction guarantee
Enable reading all customer reviews and make them interactive by