Zip cardigan, indigo – ZIPPER
100 % Alpaca jacket with zip-fly
100 % Alpaca Wool
Zipper is a warm and durable cardigan with a zip-fly. Like our other models, this sweater is just as suitable for a more relaxed office as it is for a trip into the wilderness. The knit is a little bit thicker, so it keeps you comfortable and warm. However, thanks to its zip-fly it is easy to open and take off when the warmth feels too much.
The collar part is knitted from 100% Baby Alpaca wool for a softer feel, the rest of the knit is made of more durable 100% Fine Special quality.
100% alpaca wool - durable, soft, breathable and warm. Read more about the material here.
Fully fashioned knitting - beautiful and durable seams without cutting waste.
High quality japanese YKK zipper
The knit softens to its best feel after a couple of days of use.
Made responsibly in Northern Europe.
Silky soft and warm alpaca wool is one of the finest and most valuable natural fibers in the world. Read more!
Brand: Alpa
Material: 100% Fine Special grade alpaca wool, collar 100 % Baby Alpaca grade alpaca wool
Country of manufacture: Lithuania
Care instructions: Hang outside to freshen it up. Does not need regular washing. Careful hand wash in 25 °C if needed. See care and washing instructions!
Finding the right size
You can either use our smart Fitle size advisor or compare the measurements of chart (below) to your existing garment.
How accurate are the measurements? Will they change through time or washes?
There may be little variation in the dimensions of products made from natural fibers. However, the knit has good elasticity and the knit adapts to your body during first days of wear. The product will keep its measurements well.
When in doubt with choosing the right size, please contact us. Our customer service will be happy to help you!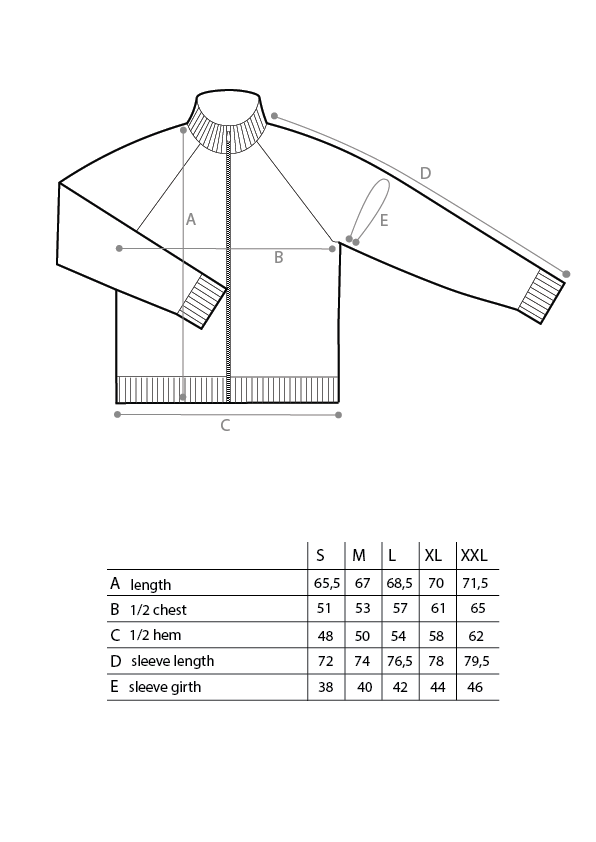 Shipping in 1-2 days
Fast shipping and free returns in EU
Responsible production – all knits made in EU
100 % satisfaction guarantee
Enable reading all customer reviews and make them interactive by