Turtleneck, off-white – VESIKKO
100 % alpaca submariner knit
100 % Fine Special alpaca wool
Whether you're sailing in autumn storms or perusing your favourite book in a lounge chair – you can count on Vesikko. It has everything you could ask for a garment that is worn in considerable numbers. Extremely stylish, but uncompromisingly practical. Pairs well with Japanese raw denim and hiking boots.
Vesikko sweater is designed to be a faithful and long-lasting partner. The development of this garment from a draft to the finished product was not a hasty project: this will stay in our collection forever, so we wanted to make it absolutely perfect.
100% Fine Special quality alpaca wool. Breathable, soft and warm. Check out the features!

Gorgeous, durable and elastic 4-ply knit.

Reversible sleeves with enough length to keep hands and wrists warm.

The collar can be raised to protect the neck. Foldable both inwards and outwards.

The material softens in use and reaches its full softness after a couple of wears.

Made responsibly in Northern Europe.
Color

:

Off-white
The design of the sweater is based on the submariner, a turtleneck sweater originally worn by British submarine fighters, which has become a permanent classic of men's style.
Instead of traditional lambswool, we made it from the Andean gold: 100% Fine Special quality alpaca wool. This rare, high quality fibre feels comfortable against the skin, is warmer than regular lambswool and stays clean even in heavy use, being naturally stain and odour resistant. The knit is a sturdy but pleasantly flexible 4-ply rib that has been used in our Shawl Collar cardigan for many years.
Silky soft and warm alpaca wool is one of the finest and most valuable natural fibers in the world. Read more!
Brand: Alpa
Material: 100% Fine Special grade alpaca wool
Country of manufacture: Lithuania
Care instructions: Hang outside to freshen it up. Does not need regular washing. Careful hand wash in 25 °C if needed. See care and washing instructions!
We recommend your normal clothing size. The dimensions of the knit may appear snug, but fear not. The type of knit is significantly elastic, which is taken into account in the sizing of the product.
The model of the main picture is 188cm / 88kg and uses size L. The model of the second and third pictures is 177cm / 77kg and uses size M.
Dimensions and size
Note! There may be little variation in the dimensions of products made from natural fibers. However, the knit has good elasticity and the knit adapts to the wearer after a few uses.
Our customer service will be happy to advise you on choosing the right size.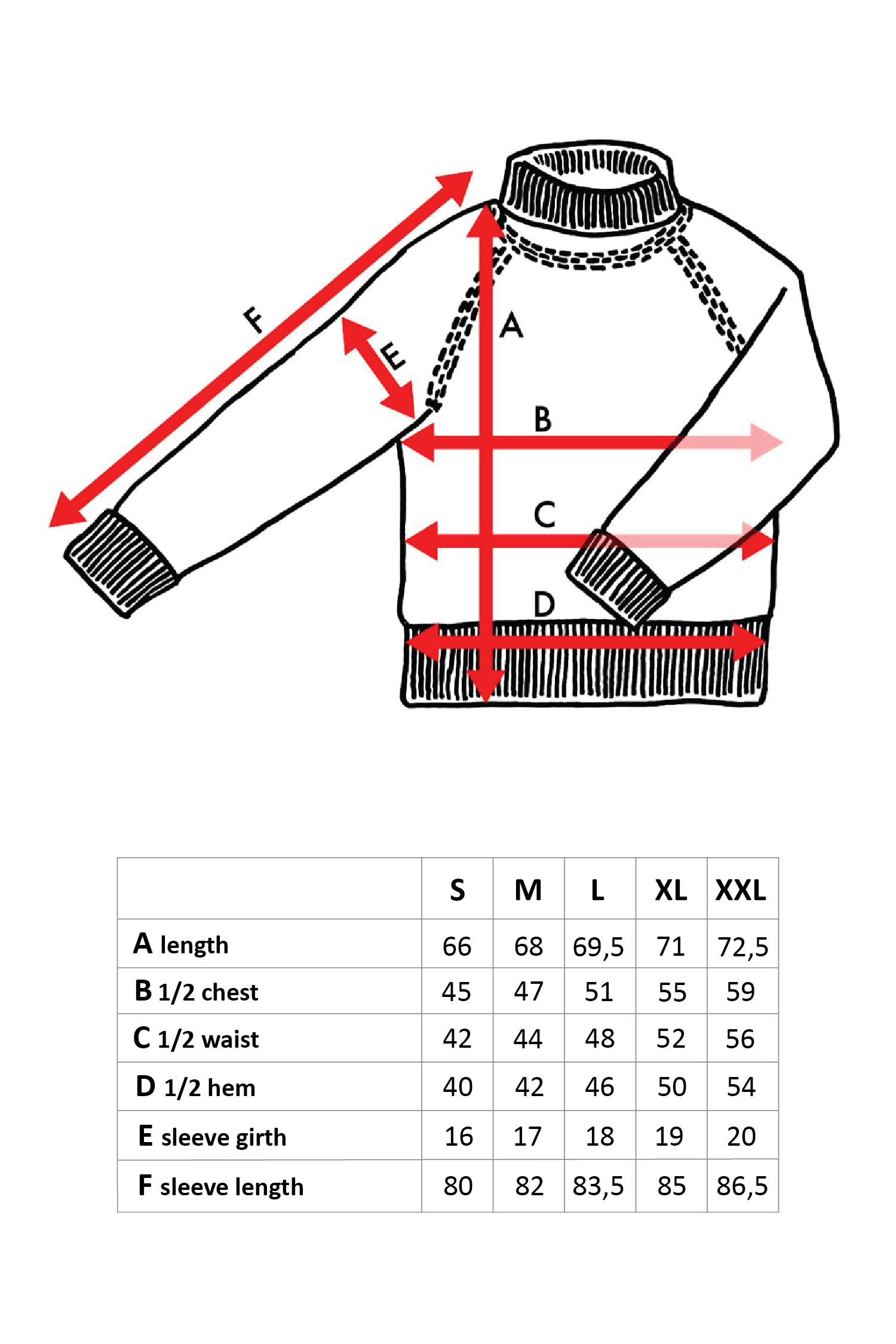 Our cooperation with KASPERI, known for its high-quality backpacks and bags, is based on a common vision: we create uncompromising, high-quality products that denote timeless aesthetics, responsibility and longevity.
We met the KASPERI team at a fashion fair years ago, and we have admired each other's products ever since. Our cooperation began with joint photo-shoots in stunning nature locations. Alpa's knitwear has been the choice for the avid hiking entrepreneurs of KASPERI for many years, Janne and Michael, who have been sharing their adventures both on the islands of the Baltic Sea and in the fells of Lapland.
On those adventures, the properties of alpaca wool have convinced them of its uniqueness. Together we came up with an idea to implement new, more robust knit designs: KASPERI's people take care of product sketching and product philosophy – we bring on board our world-class material and know-how in knitting production and design.
The first fruit of our work is now complete. It's Vesikko, the perfect Submariner knit, the undisputed captain of our knitwear collection. While the coarse sheep wool might have been sufficient for the submarine crew on British submarines, we wanted an update – thus was born the supreme alpaca wool submariner. The name Vesikko dates back to the Second World War and the Vesikko-submarine of the Finnish Navy, which is now on display and open for visitors at the Suomenlinna Museum in Helsinki.
Shipping in 1-2 days
Fast shipping and free returns in EU
Responsible production – all knits made in EU
100 % satisfaction guarantee
Enable reading all customer reviews and make them interactive by